Club Merchandise (shirts, etc) can be found HERE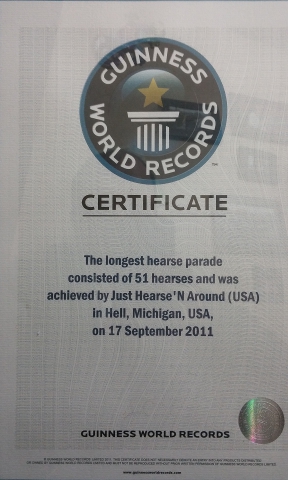 South East Michigan hearse owners and fans now have a club to call their own... The Just Hearse'N Around Hearse Club was founded in 2001 by Frank Hedeen and Andy Mosier, long time hearse owners and enthusiasts.
The club is based out of Hell, Michigan, and held its first annual "Hearse Ride to Hell" on September 14th 2002. Membership in the Just Hearse'n Around club is open to all hearse owners and enthusiasts, regardless of where you live.
Look for the club to be participating in several events throughout the year starting with car shows in the summer, and several haunts in October. Our hearse show is the third Saturday in September which is the kickoff into the Halloween season Join us for our 13th annual hearse show Hell's Hearse Fest!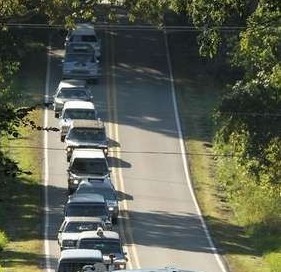 On September 17, 2011 Just Hearse'N Around with the help of Mortis City Hearse Club, The Dead Society Hearse Club, Graveyard Haulers, The Black Widow Hearse club, and more set the Guinness World Record for the Longest Hearse Parade with 51 hearses total.
Just Hearse N' Around old school!